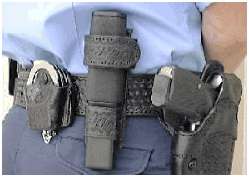 The METAL-TEC was designed to be used as an enhancement of the hand during searches; it can assist in locating metal objects which may have been otherwise overlooked.
The METAL-TEC requires only one hand for operation leaving the other hand available for more important tasks.
METAL-TEC can be held between the fore finger and the thumb freeing up the other fingers so they can be used during a search or frisking of the suspect.

The METAL-TEC can find a metal object, and pinpoint its location without the need for a constant sweeping motion.
There is no adjustment necessary on the unit, sensitivity is factory preset and automatically compensates for environmental variables such as humidity and temperature.
Another feature of the METAL-TEC allows the 9 volt battery to be inserted in either direction (non polarity sensitive) making battery replacement in the field quick and easy.
METAL-TEC also includes a low battery indicator which was designed to notify the user that the battery has been depleted to a level which no longer meets operating specifications. The low battery indicator causes the unit to constantly vibrate as soon as the power is turned on, which notifies the user to replace the battery. This feature removes the possibility of the unit being used with a weak battery which may give incorrect detection results.
The heavy duty Nylon holster contains a metal snap, to allow easy removal of the holster from the duty belt. The snap also serves as a test feature to indicate proper operation of the METAL-TEC when removed from the holster, if it continues to vibrate, this indicates a low battery condition.
If the unit is left on when it is returned to the holster, METAL-TEC will start to vibrate in the holster to remind you to turn it off.
The METAL-TEC includes a heavy duty Nylon holster and vehicle mounting kit. Using the self adhesive Velcro mounting kit, the METAL-TEC can be mounted to the prisoner cage, door panel, windows, organizers, radio console, or any smooth surface in the vehicle. This allows the officer to switch between carrying it on the belt or vehicle mounting for easy access.
Visit the Torfino Enterprises website for more information